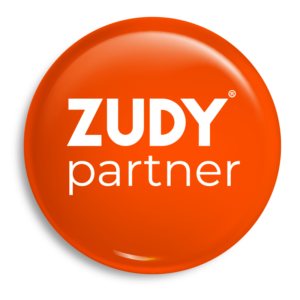 Dispatch Integration uses Zudy's Vinyl Platform to develop high value applications for enterprises in a fraction of the time of traditional methods.
What is Zudy?
Zudy provides a low-code/no-code platform that enables companies to develop and deploy custom applications at a fraction of the cost and effort of traditional programming approaches. Zudy's Vinyl platform is designed specifically for the development of enterprise-grade business applications.
Applications developed with Vinyl integrate seamlessly with virtually all business data sources, including commercial applications such as Workday, SAP, Salesforce, Netsuite, Snowflake, as well as virtually all types of databases. Zudy apps can include advanced business logic, data visualization, and custom user experiences.  
With Zudy, enterprises can develop and deploy custom applications designed for their unique needs in just a matter of weeks.
Why Would You Use It?
Zudy removes technology barriers so companies can empower subject matter experts and IT professionals to build, iterate, and deploy applications in weeks without requiring traditional programming skills. Zudy apps are automatically mobile-ready, with dynamic responsive designs to be used on phones and tablets. 
Because Zudy connects to so many data sources and has a powerful business logic engine, sophisticated applications can be developed to leverage data from multiple data sources to provide business insights and create efficient workflows across multiple functions.  Zudy apps can also leverage APIs with 3rd party systems to incorporate AI and machine learning capabilities.
Start a trial and learn about Zudy FREE 30-DAY TRIAL
How Dispatch Uses Zudy?
Our mission is to help our clients maximize the value of their IT infrastructure. We do that by building advanced workflow automation and data integration solutions. With Zudy, we can now create custom applications and user experiences that complement our workflow automation expertise and are designed for the unique needs of each of our clients.  The Zudy apps we create are truly enterprise-grade – secure, reliable, and scalable. Because Zudy apps can be developed rapidly, we can deliver innovative solutions in an agile manner that may have been cost prohibitive using traditional methods.
Dispatch's proprietary project management methodology – DIVE™ fits perfectly with the low-code nature of Vinyl. The four steps of DIVE™ – Discovery, Innovate, Validate and Empower, ensure custom app development projects will be fast, efficient, and fully meet business requirements.
Our clients may choose to host these custom apps in their own environment and adopt Zudy as their own low-code application development engine. Alternatively, Dispatch can securely host these applications on our clients' behalf, which is a great way to get value quickly.
Dispatch believes in the value of low-code solutions, and uses Zudy for our own internal applications.
Learn More about Zudy
To learn more about Zudy's Vinyl platform and how low-code application development works, please visit their website here.
Fill out the form below to take advantage of Zudy's free proof of concept.
Get the latest news, special offers, and new products straight to your inbox