The Dispatch Integration team had the pleasure of attending the HR Technology Conference & Exposition 2022 in Las Vegas on September 13th-16th, 2022. HR Tech Con is a valuable industry event where the team gets a chance to learn from HR thought leaders, connect with HR professionals, and explore the latest technologies in HR. This event happens yearly and is a great opportunity for the entire Dispatch senior team to learn, network, and team build.
The team has highlighted some of the most significant insights from the event outlined below.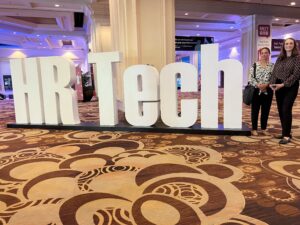 This year's event focused on Women in HR and sessions were held for the Women in HR Technology Summit.  Laura Williams, Director of HR Digital Transformation and Kathryn Atwell, Director of Project Management & Operations, posed beside the HR Tech sign before attending the summit on Women in HR Technology.
The ethical AI in HR Tech panel was a very interesting discussion. The panel was packed, indicating that this is an essential topic for HR professionals and many people are looking to understand more about it. While there is a great deal of promise with AI to improve HR efficiency, there is also a lot of unease about the risk of improperly trained AI introducing unwanted biases into HR core HR processes such as recruiting.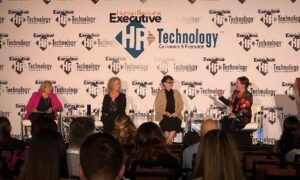 There was a great closing panel on Tuesday morning discussing how to make sure HR Digital Transformations are inclusive and engage your diverse workforce. The thought leadership and organizational leadership of amazing and inspirational women across so many industries was clear during this panel.
Some key points from this discussion and other panels include:
"The biggest barriers to digital transformation are not technology, it's politics and effective inclusive leadership inside organizations."
"There's a natural partnership between HR and IT, but it takes effort to cultivate this relationship to ensure alignment."
"A digital transformation also affects culture. It can be an opportunity for a culture refresh, but to be effective you need to be thoughtful about how technology impacts employee experience."
"Coming from Covid, Women are more likely to want to work remotely, have caregiving responsibility, and are more likely to express fatigue. Providing technology to ensure connection and a sense of purpose is so important for a diverse workforce."
"Career development and learning is #2 behind salary as criteria employees use to evaluate employers. New HR technologies can be very helpful in these areas."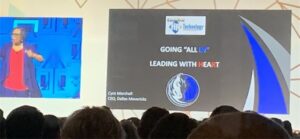 The team noted that the official opening keynote speaker on Wednesday afternoon, Cynt Marshall, CEO of the Dallas Mavericks, was extraordinarily energizing. She had the audience up, out of their seats dancing! Everyone also received a copy of her book titled 'You've Been Chosen'. A big highlight from her talk was 'People don't care what you know, until they know you care!'.
Another great insight was the stat from Okta data that suggests a 60% explosion in apps within corporate ecosystems. These apps all need to talk with each other, and be easy and accessible for users across organizations.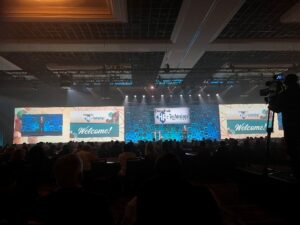 At the Expo, the team noted there were so many emerging and established HR tech organizations to connect with and learn about. It was a great opportunity for the team to reconnect with old friends and meet new ones!
Everyone from the Dispatch team enjoyed reconnecting with other organizations who are experts in the HR integration space and look forward to collegial or partnership opportunities to work together in the future.
Cameron Hay is the CEO of Dispatch Integration, a data integration and workflow automation company with clients in Canada, US, Europe and Australia. He has over 30 years of leadership experience in various technology-oriented industries.