Dispatch Integration is a proud sponsor of Workato's first-ever Automate Conference that will take place virtually from May 18 – 20, 2021. Dispatch is a Platinum Innovation Partner with Workato and has been using this breakthrough solution to unlock value for our clients since 2018.
Nicolas DiGiulio, Dispatch Integration's Workato Solutions Lead, will be leading a fireside chat session with Trakstar's CTO, Chris McClave, about the opportunities unlocked through partnerships with Workato and Dispatch. The session will focus on Trakstar's business and product goals that led to the decision to utilize Workato's embedded platform solution, Workato's ability to enable acceleration of their product integration approach, and Dispatch's role in helping Trakstar achieve these strategic objectives.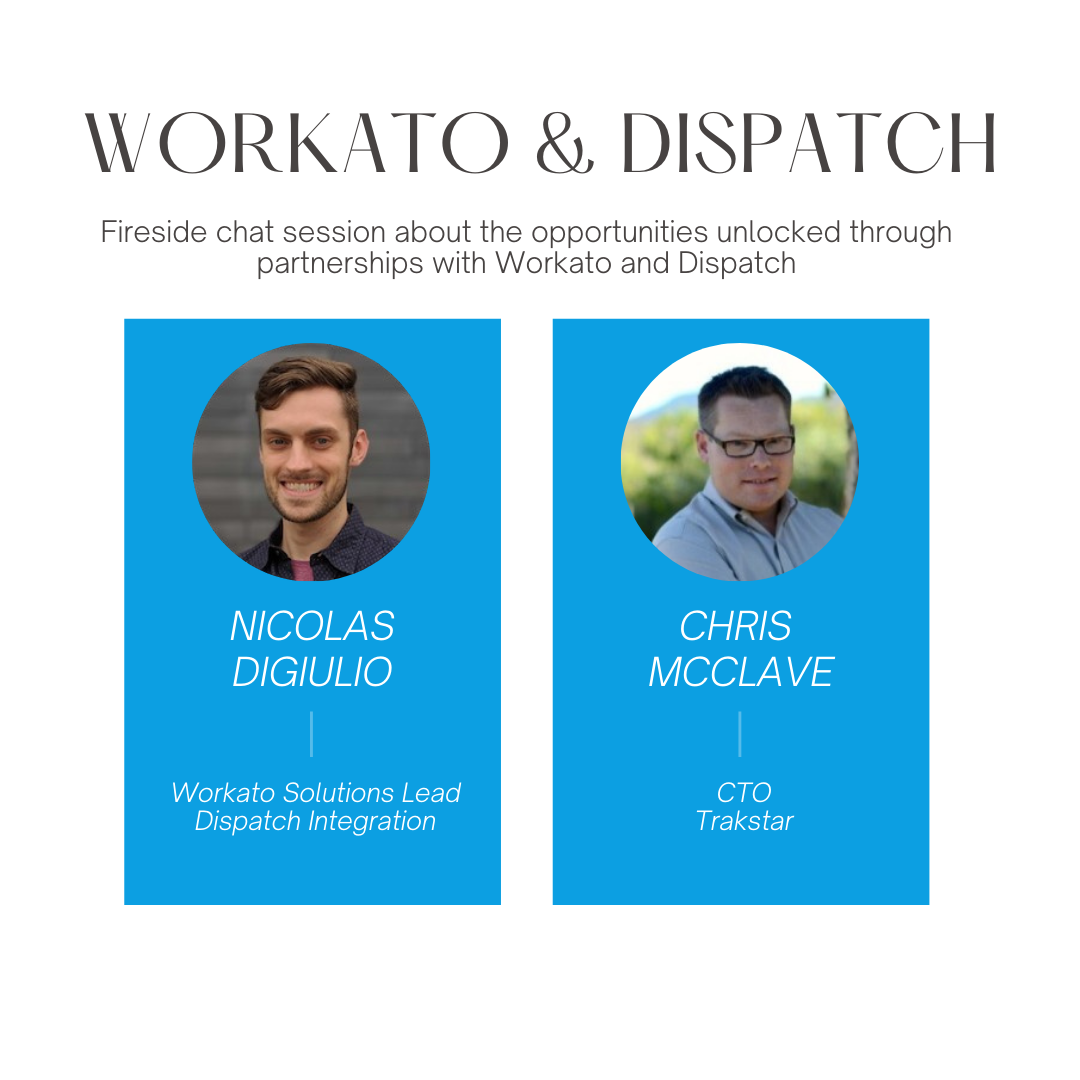 Here is what's planned for the Workato Automate Conference: 
Connect with leaders: Keynotes from business leaders on growth, management, and creating impact.
Develop new skills: Learn from more than 30 sessions across 5 tracks geared towards IT, Business Technology, HR, Finance, RevOps, OEM for Product Managers, and more.
Networking: Meet other professionals from top companies.
Learn best practices: Expand your knowledge of the Workato platform, software integrations, and automations.
The exciting conference will also feature keynotes from:
Vijay Tella, Founder & CEO at Workato
Douglas Rousso, CIO at MGM Studios
Gautham Viswanathan, Founder & Head of Product at Workato
Phil Fersht, Founder & CEO at HFS Research
Register here for the free conference and hear from industry leaders providing insights on how automation can be applied to your business.
---
Dispatch Integration is a software development and professional services firm that develops, delivers, and manages advanced data integration and workflow automation solutions. We exist to help organizations effectively deal with the complex and ever-changing need to integrate data and optimize end-to-end workflows between cloud-based, mission-critical applications.
Contact us today to learn how Dispatch Integration can help accelerate and amplify the impact of your Workato projects.
Cameron Hay is the CEO of Dispatch Integration, a data integration and workflow automation company with clients in Canada, US, Europe and Australia. He has over 30 years of leadership experience in various technology-oriented industries.