Workday Integration Health Monitoring and Alerting
Sentinel is a Workday monitoring system that provides panoramic views of the state of health of all your integrations, and real-time alerts when problems occur.
Sentinel ensures you have continuous visibility of the data flowing in and out of Workday and the tools you need to manage your integration ecosystem.
Respond to Critical Integration Issues Before They Impact Your Business
You rely on Workday to power mission-critical business processes. The integrations between Workday and other cloud applications and 3rd party services carry mission critical payloads. You need to be confident that these integrations are reliable.
Sentinel give you confidence that data is flowing as it should to and from Workday, and that issues can be addressed quickly so your business keeps running.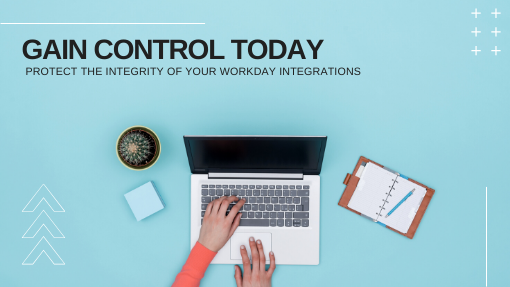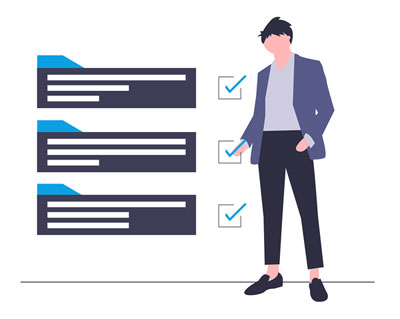 Automatic Integration Monitoring
Sentinel continuously monitors all Workday integrations and collects integration status metadata in real-time. Sentinel is completely secure, with no underlying data ever monitored or accessed.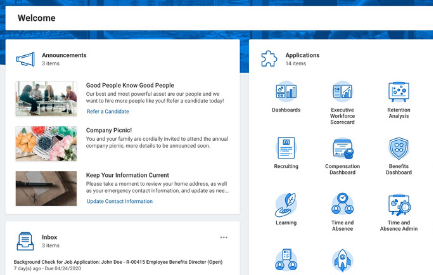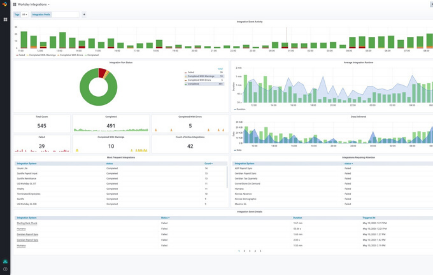 Dynamic Dashboarding
Integration metadata is indexed and stored in a secure, flexible, and unlimited database. Sentinel includes a responsive data visualization engine and dashboard that lets you zoom in to view real-time status and zoom out to investigate historical trends in just a few clicks.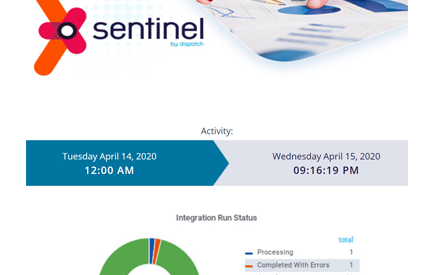 Smart Categorization, Prioritizing and Alerting
Integrations can be categorized based on business importance, and integration failures can be prioritized based on business impact. Sentinel collects all integration event data into regularly scheduled email digests and can send real-time smart alerts to Slack, Teams, SMS, or your Service Desk if issues occur.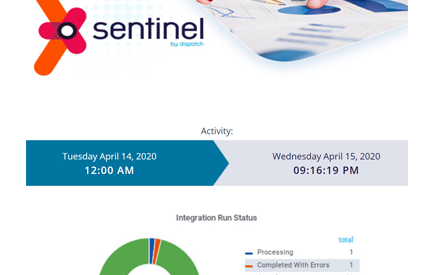 Get the Insights and Alerts You Need to Keep Your Workday Integrations Running
Book a demo today to find out how.
Sentinel Features and Benefits
Easy and Powerful
Sentinel is a powerful tool that can be set up in just a few hours. It's a turn-key solution that can begin monitoring your integrations immediately without the need to design and build a custom solution.
Secure
With Sentinel your data is always secure. Sentinel monitors integration metadata, but never accesses your actual data.
Panoramic Dashboard
The Sentinel dashboard gives you real-time and historic visibility of integration events and performance as data flows between Workday and 3rd party applications and services.
Comprehensive Sentinel
Sentinel gives you comprehensive views of the state of health of all your integrations, whether they run once a year or a thousand times a day. Get information on run times, payload size, frequency, errors & warnings, and many other performance metrics.
Automatic Alerting
Sentinel includes an automated, context aware alerting system to generate alerts immediately when errors are detected. Sentinel can be connected directly to your existing service desk.
Categorization and Prioritization
Errors and integration failures can be auto categorized according to their seriousness so error correction activities can be prioritized.
Unlimited Users
Sentinel includes unlimited users that you can configure based on their role, function and region. So, for example, regional Payroll teams can configure alerts for issues that only impact their country's payroll, while global HRIS leaders can get visibility on the entire Workday integration catalogue.
Daily Digest
Integration events are consolidated and automatically published in an email digest to ensure your organization is always aware of the status of your integrations, keeping stakeholders informed.
High Performance
Sentinel uses a powerful analytical database that can query and categorize thousands of events instantly. Smart alerts can be delivered seconds after an incident has occurred.
Large Enterprises
Large enterprises – who need to monitor dozens or hundreds of integrations across different business units, divisions and countries
Emerging enterprises
Emerging enterprises – who have fewer but critical integrations that can't tolerate failures.
Systems implementation teams
who need specialized integration monitoring after implementing new systems – to ensure data is flowing as it should during launch and stabilization.
Customer Service Is Our Priority
At Dispatch Integration, we support everything we build! If you are an existing Sentinel client and need assistance, please click on the link below to allow our experts to address your needs.