Compare is a secure, fast and easy-to-use desktop application to rapidly compare .csv and other comma delimited files to find differences between datasets.
A simple user interface sits on top of a powerful data processing engine capable of comparing millions of records in minutes.
Enterprises can have dozens or hundreds of datasets that need to be analyzed and validated whenever systems, processes, or populations change. Dataset analysis can be a tedious and repetitive job, even when using advanced Excel functions.
Compare automates the job of comparing datasets, and transforms this work into four easy steps:
1. Select two comma delimited files to compare (such as .CSV files). Each file must have headers which are identical to each other.
2. Select the key field(s) that define unique records.
3. Select output options and click start.
4. Compare differences between files using Excel.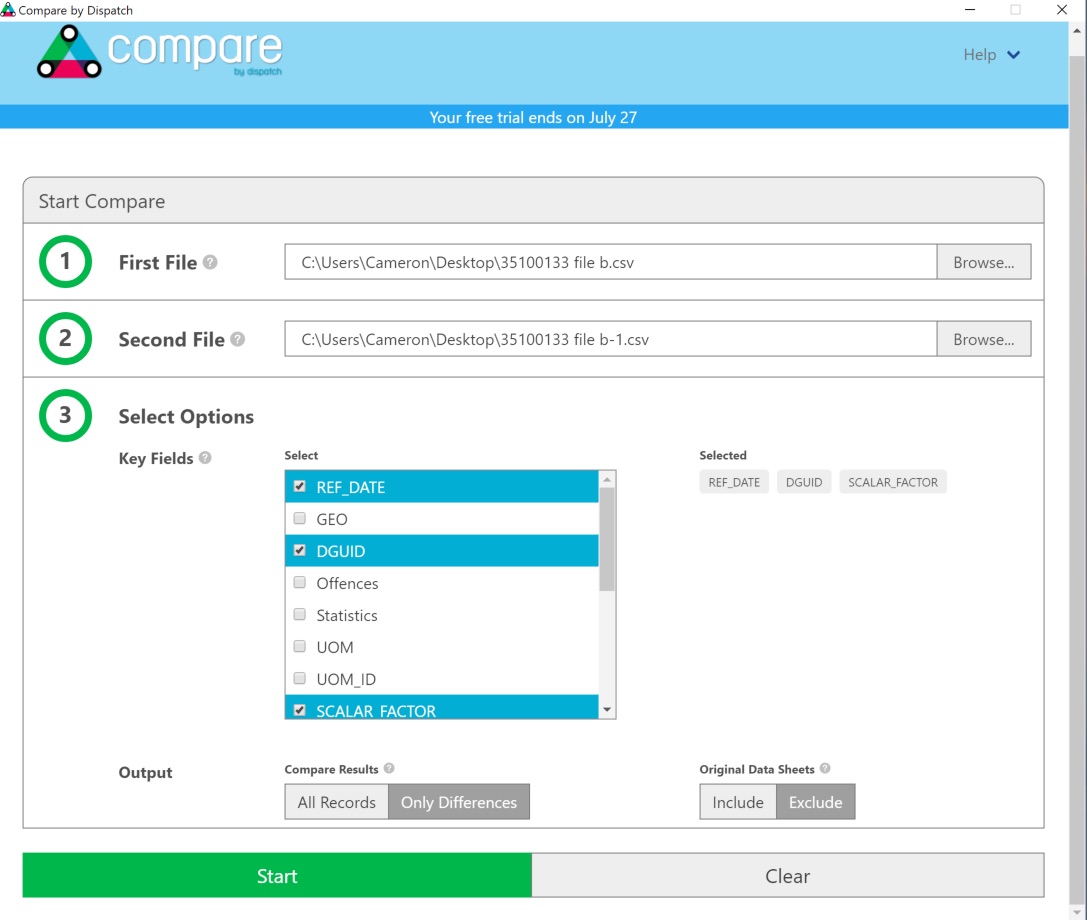 Compare files in four easy steps
For more information on Compare and help to get started
Compare eliminates hours of tedious work for anyone who needs to find differences in datasets.
Compare is designed as a simple, easy to use and powerful tool to compare data.
Compare is used by business analysts, data scientists, integration specialists and many other professions to quickly and accurately find the differences between two datasets.
Compare uses familiar and standard comma delimited file input and Excel sheet output.
Compare is secure. All data processing occurs on your local machine. Nothing is ever transmitted or processed in the cloud.
Compare is fast.  Finding the differences between datasets can be slow and tedious, even when using advanced spreadsheet analytic functions.  Compare automatically processes millions of records per minute and outputs the results to Excel, where more analysis can occur.
Compare is powerful.  Large files consisting of hundreds of columns and hundreds of thousands of rows can be processed, limited only by available RAM and disk space.
System requirements: Windows 7 Professional or Windows 10 with 4Gb RAM or greater and macOS Catalina (or newer)
Compare
Smart, simple and fast data comparison tool
Compare two comma delimited files automatically

Output to Excel

Selection of single or multiple keys

Choose to show all records or just differences

Secure – all data remains on your computer

Powerful – file size only limited to memory on your computer
Compare has greatly reduced the amount of time I need to analyse "before" and "after" files for our semi-annual upgrade testing.  It allows me to quickly focus on where the differences in data are and easily code them as "explainable" or "unexplainable".
Lisa
© 2019 Dispatch Integration Ltd.