Client:
Our client is a leading US-based software company that provides an innovative global talent platform that supports the needs of both job seekers and employers.
Challenge:
Our client uses Greenhouse Recruiting as the core application to manage their talent acquisition processes. This platform was ideal for their recruiting teams; however, because it was not directly integrated with job boards, there was a significant amount of manual work for the following two use-cases:
Entering salary band information at the creation of a new job or when updating a job profile.
Entering salary band information at the creation of a new candidate profile based on their postal code and job profile.
This manual effort resulted in excess administrative burden and costs, slower than desired processes, and increased human error. Errors related to compensation are extremely expensive and can negatively impact the candidate experience, so there was a great desire to automate these processes.
In particular, the client was looking to automate the entry of salary band information for the three tiers defined in their Workday system. They also needed to automatically update Greenhouse fields related to the mid-salary range, level, and job status.
Solution:
Dispatch Integration was tasked with creating a Workday Studio integration to automate the client's requirements. We leveraged the webhooks in Greenhouse for communication between Greenhouse and Workday. This integration automatically populates the 'Notes', 'Mid Salary Range', 'Job Status' and 'Level' fields in Greenhouse Job and Candidate profiles based on Workday data.
When a job is created or updated or a candidate's profile is updated with their postal code, the corresponding webhooks get triggered in real-time, setting up a communication channel for back-and-forth data flow between Greenhouse and Workday. This leads to the job-related information like salary range values for different tiers, job level, job status etc., from Workday being populated in the corresponding fields for Greenhouse Job and candidate profile.
Outcome: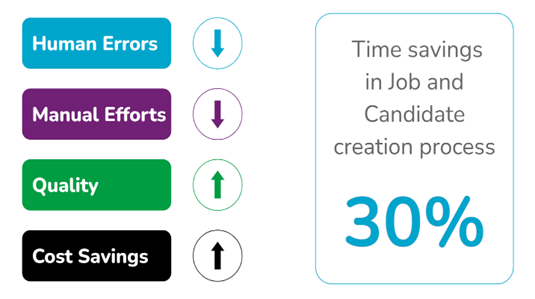 The project resulted in an automated data sync from Workday to Greenhouse in real-time, which eliminated data entry errors and reduced manual effort significantly, especially because of the large amount of data managed. This in turn helps our client to focus their time on recruiting and decision-making rather than manually duplicating the information from Workday to Greenhouse every time a new job is created, or a new candidate applies for a job.
Since multiple changes are often made for a given job and a large number of candidates apply for jobs, this integration has proved to be significantly beneficial to the client's talent acquisition team.