Dispatch Integration is pleased to announce that we have been included in The Globe and Mail's fifth-annual ranking of Canada's Top Growing Companies.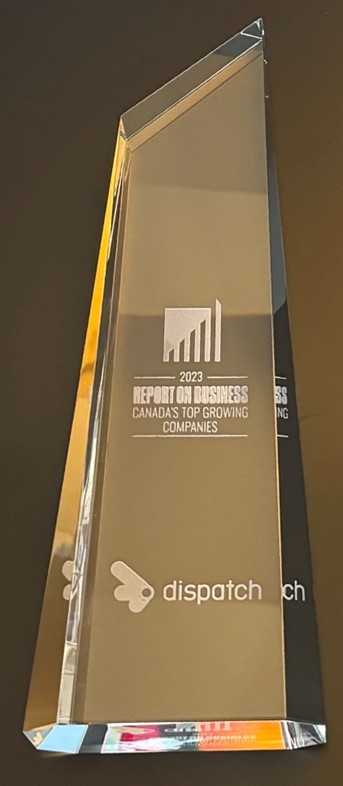 Canada's Top Growing Companies is an editorial ranking that was launched in 2019. It aims to bring the accomplishments of innovative businesses in Canada to the forefront. In order to qualify for this voluntary program, Dispatch had to complete an in-depth application process and undergo a rigorous review by an evaluation committee. This is the third time Dispatch has been recognized in this ranking.
"Canada's Top Growing Companies acknowledges the drive and ingenuity displayed by Canadian business," says Dawn Calleja, Editor of Report on Business magazine. "This year's ranking serves as an inspiration for future business owners."
"This year's Report on Business magazine's list of Top Growing Companies shows how innovative ideas always rise to the top, perhaps even more so in times of uncertainty," says Andrew Saunders, CEO of The Globe and Mail. "The Globe and Mail congratulates this year's winners for meeting and surpassing those economic challenges."
Founded in 2016, Dispatch Integration is a software development and professional services firm that works with enterprises to help design, architect, and implement advanced data integration and workflow automation solutions. Our aim is to help organizations effectively deal with the complex and ever-changing need to integrate data and optimize end-to-end workflow between cloud-based, mission-critical applications.
"We are delighted and honoured to be selected as one of Canada's Top Growing Companies," says Cameron Hay, CEO and co-founder of Dispatch Integration. "It's entirely due to the talent of our remarkable team and their commitment to delivering extraordinary value to our clients every single day."
About The Globe and Mail
The Globe and Mail is Canada's foremost news media company, leading the national discussion and causing policy change through brave and independent journalism since 1844. With our award-winning coverage of business, politics and national affairs, The Globe and Mail newspaper reaches 6.2 million readers every week in our print or digital formats, and Report on Business magazine reaches 2.7 million readers in print and digital every issue. Our investment in innovative data science means that as the world continues to change, so does The Globe. The Globe and Mail is owned by Woodbridge, the investment arm of the Thomson family.
Cameron Hay is the CEO of Dispatch Integration, a data integration and workflow automation company with clients in Canada, US, Europe and Australia. He has over 30 years of leadership experience in various technology-oriented industries.