Think back to your first day at your current company. Was it an energizing experience that reinforced your decision to accept the role? Or was it underwhelming?
I distinctly recall my first day at a global consulting company. My manager thought my start date was a week later and they weren't even in the office. I didn't have a desk assigned, so I was put in a cubicle of a teammate who happened to be on vacation.  There was no laptop for me, and there wasn't a day one program or schedule, leaving me with nothing to do. I ultimately spent the day alternating between looking at someone else's family photo on the desk, looking out the window, and wondering if I had made a huge career mistake.
Things got better after that, and I ended up enjoying my time at that firm. But that first day still haunts me twenty years later.
Unfortunately, this type of experience is still common, and it's proven to be costly: According to the Harvard Business Review, up to 20% of employees leave within their first 45 days of employment. Nobody in HR and no hiring managers want to provide a bad onboarding experience. So why does this happen?
One big reason is that onboarding, like many HR processes, is complex and spans multiple functions and systems in an organization. Here are just a few examples:
Getting a desk or office assigned requires facilities
Receiving a badge and company ID requires the security team
Acquiring business cards requires marketing
Procuring a laptop, mobile phone, and other devices, requires IT
Historically there hasn't been an easy way to orchestrate all the people and resources to create an efficient and delightful onboarding experience. HR and hiring managers would log tickets to request resources, or worse, send emails back and forth across the organization. And the same information about the new hire had to be entered manually over and over into all the different systems each function used. This is a horribly inefficient process, frustrating for everyone, and prone to error and delay, which ultimately impacts the employee onboarding experience.
Fortunately, these are solvable problems. Modern enterprises with cloud-based app ecosystems have all the tools they need to re-engineer this experience, as well as other experiences that span the employee lifecycle. There are four key elements to reinventing these processes: 1) integration, 2) automation, 3) orchestration, and 4) simplification.
Here's a closer look at each element:
1. Integration
All the steps of an onboarding process require fundamental data: Name, Role, Department, Reporting Manager, Start Date, etc. That data exists in the recruiting system. Well-designed data integration can instantly get that data into the core Human Capital Management system, where more integrations can move that data to the IT service desk system, the facilities management system, learning management system, active directory, and more. These integrations can save thousands of hours of manual data entry, ensure the data is always updated from a central source, and eliminate the risk of keying errors (there's nothing worse than getting a new email address with a misspelled name).
2. Automation
Many HR tasks are repeatable, and therefore perfect for automation. For instance, if every employee gets a laptop, a badge, an email address, and a desk, there is no reason these processes can't be automated based on a trigger from the HR system. More sophisticated rules-based automation can establish which software applications an employee should get and what kind of access should be provisioned based on role and seniority.
3. Orchestration
Every employee appreciates systems that help ensure tasks are done on time and in the right sequence. This includes automating task alerts and escalations for time-sensitive tasks. A great example of this is when a hiring manager wants to grant a new employee different access rights to an application than is typically provided. Automated orchestration of approvals from the application owner and functional director ensures there is no delay in getting this done.
4. Simplification
Our philosophy is to move tasks (and data) to people, not ask people to move to different applications. In other words, building great workflow automation solutions involves extracting tasks and data from individual applications and moving them into the places where people spend their time, like Slack or Microsoft Teams. Employees can then use a platform bot, like Workbot, to complete tasks, execute approval steps, or even coordinate welcome lunches without leaving their chat application.
The Benefits are Enormous
The benefits that come with reinventing these processes extend far beyond the employee experience. They include significant time savings, lower costs, fewer errors, increased data security, and less frustration among new hires, employees in HR, and hiring managers.
You can automate any onboarding workflow with the enterprise automation platform, Workato. The platform allows you to connect your applications, build automation, and leverage Workbot for Slack or Teams—all in a matter of days and with little-to-no coding.
To learn more about automating your onboarding workflows with Workato, you can speak with one of the experts at Dispatch Integration! 
Gavin Hay, co-founder, and President of Dispatch Integration will join Jessalyn Klein, Head of People and Culture at Workato, and Mike Vachss, People Operations Manager at Gainsight, on September 30th to discuss how you can automate the employee experience end-to-end. You can learn more about the webinar here.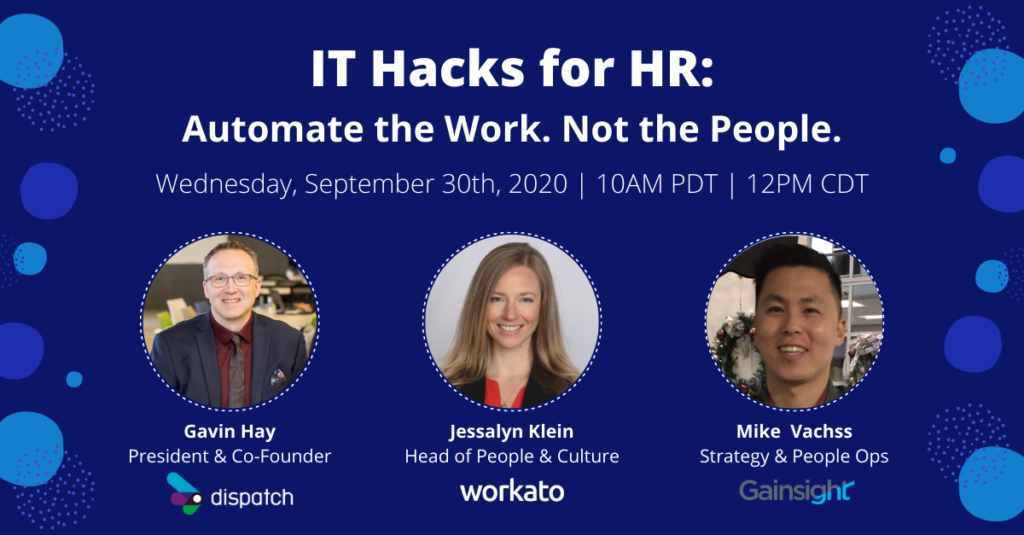 ---
Dispatch Integration is a software development and professional services firm that develops, delivers, and manages advanced data integration and workflow automation solutions. We exist to help organizations effectively deal with the complex and ever-changing need to integrate data and optimize end to end workflows between cloud-based, mission-critical applications.
Cameron Hay is the CEO of Dispatch Integration, a data integration and workflow automation company with clients in Canada, US, Europe and Australia. He has over 30 years of leadership experience in various technology-oriented industries.